Kingsport, Bristol, and Johnson City TN
Here are six reasons to choose Top Notch Raising
Cost-Efficient
Concrete replacement is expensive because you have to remove the existing concrete. This often requires extensive digging and likely will disrupt your landscape or home significantly. Heavy equipment usually is needed to replace concrete. Plus, it could take several days or longer to complete.
Professional concrete lifting is much more cost-effective because it only involves injecting a geotechnical polyurethane foam that expands and lifts the concrete within minutes.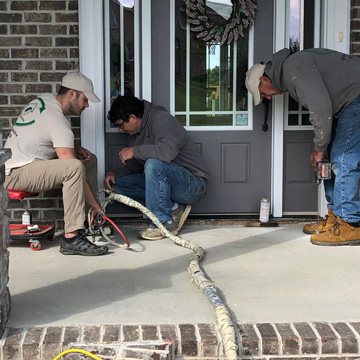 Long-Lasting Solution
Replacing concrete may sound like the best, long-term solution to fixing uneven slabs, but spray foam concrete lifting is designed to last for the long haul. When you hire Top Notch Raising, our results will last for years.
Ready for Immediate Use
Most of our projects are ready for immediate use, although it may take up to one day at the longest. Either way, this is a much shorter time frame than waiting for a contractor to excavate your existing concrete and replace it entirely.
Doesn't Disturb Landscape
When our pros perform your concrete lifting services, the process does not require digging or excavating. We generally do not need to make any adjustments or changes to your landscape. However, if we are performing concrete lifting services on the interior of your home, we may need to remove your existing flooring. However, we can replace it to look undisturbed.
Preserves Original Appearance
One of the best benefits of concrete lifting is that it preserves the original appearance of your concrete. Instead of replacing only a section of concrete, which creates an obvious transition between the new and existing slab, concrete lifting maintains the concrete's surface's aesthetics.
Fast and Convenient
The length of each project varies, depending on the areas needing repair. However, once the foam is injected, it cures within 30 minutes with little to no disruption in your daily routine. This is highly beneficial for our commercial clients who prefer to not disrupt their day-to-day operations or business.
No job is too small!
At Top Notch Raising, no job is too small for us.
We are glad to provide our concrete lifting services to homeowners in need of the following:
Concrete pool deck lifting
Concrete patio or stairs leveling
Driveway, walkway, or sidewalk lifting
Foundation repair
Concrete slab lifting (interior or exterior)
Does your concrete patio in Kingsport need a lift? Need concrete stairs leveled in Johnson City? Top Notch Raising is a top-rated concrete lifting servicer in the Tri-Cities.
If you are interested in hiring professionals for fast and convenient concrete leveling services in Kingsport or Johnson City, contact Top Notch Raising by calling (423) 482-8383. We offer a no-cost, no-obligation estimate to help you decide if concrete lifting is right for you.